How do you ensure that your business continues to stand out in this digital age? How do you draw attention to your products? The video manual integrates pictures and sounds! Video brochures are a new way to present your company or product in the original way. As soon as you open the brochure, the video starts playing. The built-in LCD screen attracts the viewer's attention.
Video screen size and memory
Video manuals are available in different screen sizes: 2.4, 2.8, 4.3, 5, 7 and 10 inches. The quality of the LCD is very high. This applies to any format. The price of the booklet depends on the size of the screen and on the print run. The LCD video manual has standard 128MB of memory and a rechargeable lithium battery with a service life of approximately 1.5 hours. Depending on the size of the display, we can place 15 to 20 minutes of video on a booklet. Memory can be expanded as needed. We will convert your videos to the correct format at no additional cost.
Different sizes
Video brochures are available in a variety of sizes; A4, A5 plus, A5, or custom formats. Video manuals are also available in business card mode! A digital business card, including your personal presentation or company movie. The video business card has a 2.4-inch display and is small, lightweight and easy to mail. The layout of the video manual can meet your needs! We are happy to handle artwork for you or send you appropriate ones.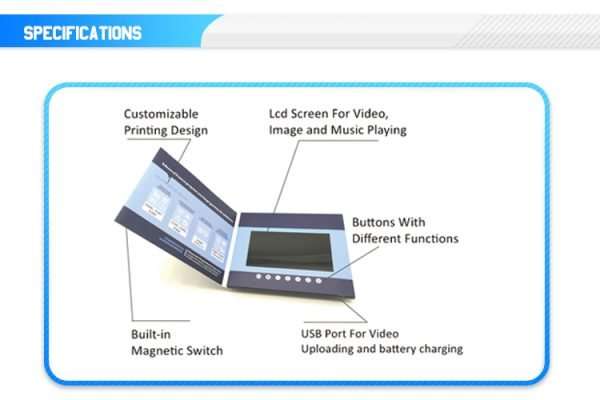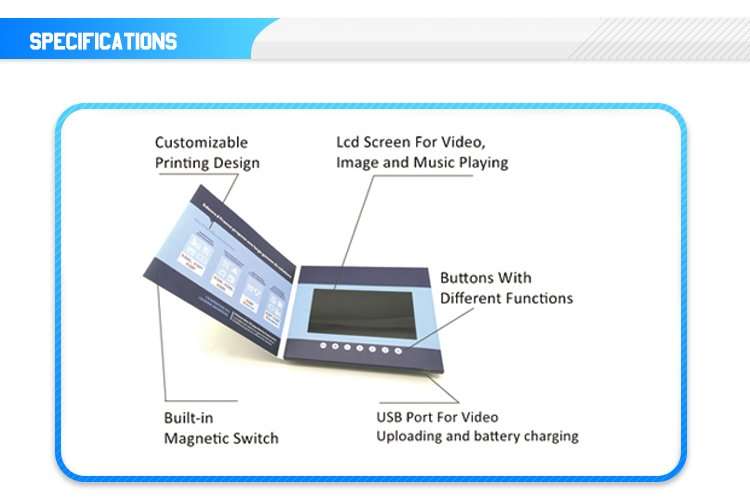 Control Button
One or more videos can be included in the video manual. We can add buttons to the brochure so you can show the muliple video. Buttons are also used as pause and/or volume control. For a pleasant sound experience, we recommend always using the volume button. The price includes 5 buttons.
USB cable
For each video manual, we provide a USB cable that you can use to charge the video manual. You can even replace the video. Use a USB cable to connect the video manual to your computer and delete the video. You can now upload a new video as long as it meets certain criteria. We will be happy to provide you with more information at a later stage. Because you can replace videos, brochures are always up-to-date.
Interested in video brochures? Ask us about many possibilities!