A Video Box is an LCD embedded into a custom printed softcover or hardcover package. With a wide variety of sizes, you can choose from 2.4 inch, 4.3inch, 5.0inch, 7.0inch and 10inch.
Video box content is reloadable: Video content can be changed easily at any time without any software, which means the content can be kept relevant and dynamic.
The batteries in video box are rechargeable to make sure they can be watched anytime anywhere because electric outlets are not needed.
Video box dispay is No internet connection needed: just opening the box activates the videos.
From the time the design is complete, video boxed can be produced and delivered to recipients in 12 days. Videos can be up to 8 hours: The average video length is 15 minutes, and while shorter video content tends to be more effective, videos can last up to 8 hours in video brochures. Touchscreen navigation option: For the most convenient navigation, they can be produced with a touchscreen feature.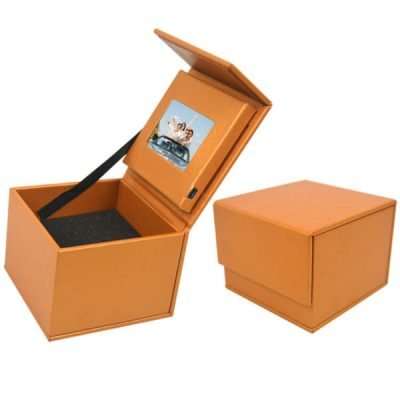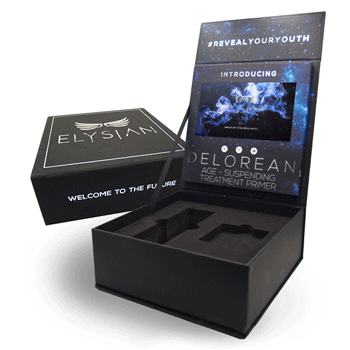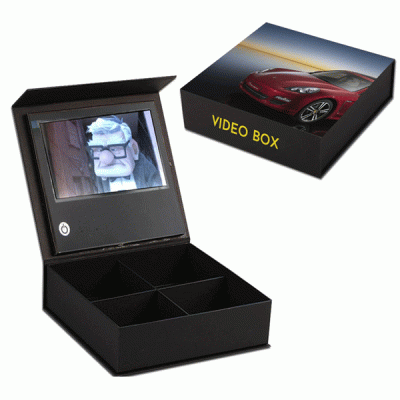 Video box printing
Usually the cover is printed with matter lamination or Glossy. some special printings are available as below.
-Black kraft board or uncoated stock
-Foil stamping
-Spot varnish
-Pantone colours (including metallic)
-Emboss / de-boss
-Raised Varnish.
-Personalised text / variable date
Video activation
Push button on/off : Open lid and press button to start the video
Automatic Light sensor on/off: Open lid and video plays automatically (Custom production required – MOQ 100 units
Video box fitment
Depending on the contents of the box, we will design a bespoke fitment to best house and protect the content.
Typically, a fitment will be made of either Foam or Cardboard.
In order to ensure the product fits in the fitment perfectly, we will always need physical samples of the products that will be going in. This is so we can design the best fitment for the job and also ensure it fits with precision.